Charlotte Koi Club Mission
Social club for koi enthusiasts at all levels of experience and expertise.
Provide education related to koi, koi keeping, and koi pond management.
Provide consultative advice on buying koi, koi health, water quality, and general koi pond management.
Share knowledge on topics of interest to club members such as water gardening, landscaping around ponds, statuary, koi shows, and Asian culture.
Charlotte Koi Club Meetings
Meetings are held on the second Saturday of each month. Except for winter months, meetings are held at club members' homes in Charlotte and the surrounding counties. We welcome anyone with an interest in the koi keeping or water gardening. We also occasionally arrange excursions to koi breeders, shows and events in the Greater Charlotte region and beyond. Members and non-members are welcome to attend any event!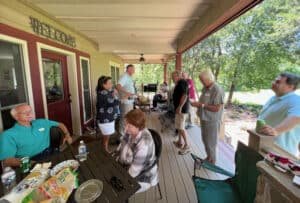 Club History
The Charlotte Koi Club is the new name for the organization formerly known as Piedmont Koi and Watergarden Society (PKWS). PKWS was formed in 1991 by several families in Charlotte, NC to provide an informal and social avenue for sharing information about creating and maintaining ponds, water gardens, and caring for koi. The Charlotte Koi Club is committed to support the interrelated hobbies of koi keeping and water gardening.
Club Officers
President – Terry McClain
Vice President – Felicia Santos
Treasurer – Fred Bower
Membership – Cathy Goodrich
Secretary – Lori Vertin